Scout Cuomo is a wonderfully talented visual artist. Her paintings evoke the motion of the ocean with her colorful highlighted curves and vibrant environments.
What's your name and what do you do?
My name is Scout Cuomo and I'm a full-time artist and small business owner.
How long have you been creating your art?
I have been drawn to creating art since I was 3/4
What made you want to be an artist?
At this point, I don't think I was ever not an artist. Making things with, mud, clay, colors has been an integral part of my growing.
What types of subject matter are you most drawn to when creating art work?
I create work mostly that centers around the study of layering light in water and have recently come to land in plants and wooded landscapes. I also create many small works on glass of fish and birds. My inspiration comes from elements in life that give moments of respite and hope.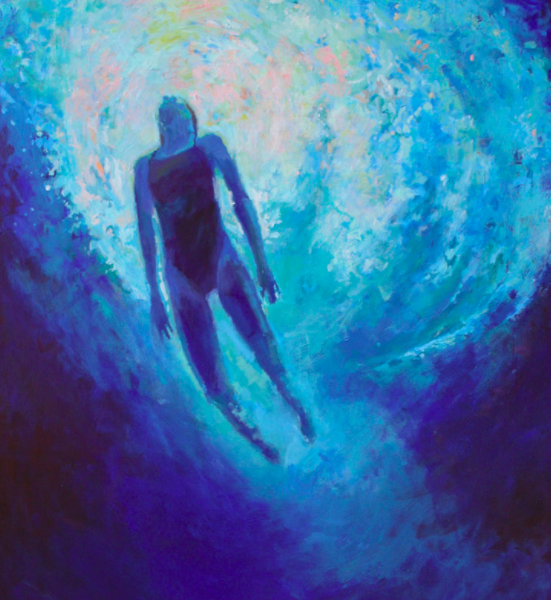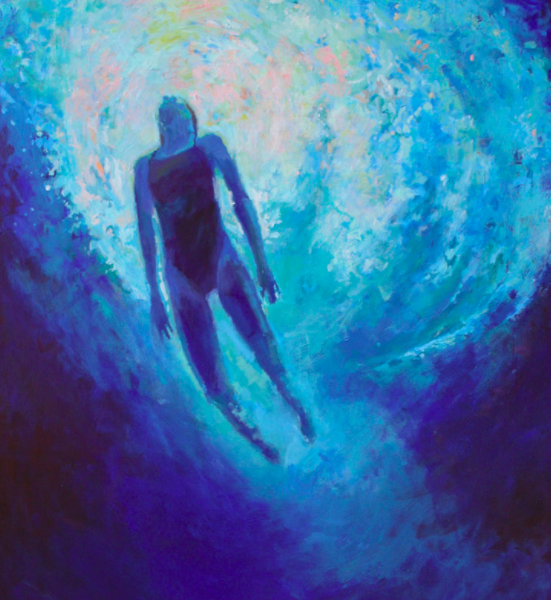 Is there any painting that has a particularly personal story behind it?
I think each painting contains a grain of a personal story. Water feels spiritual and represents the vast possibility of evolutionary diversity and transformation. As an individual, I work with chemical depression and each piece feels like it's working when I have that sense of calm and delight. The work refuels me.
What has influenced your style if any in your work?
Impressionism has heavily influenced my style. The study of light and its immediacy is infinitely dynamic. The early impressionist watched the diversity of ways in which color relationships play in the natural world and also explore the internal landscape through which the artist filters their paintings.
What does your art studio look like?
It's full of natural light, experiments, large paintings of swimmers painted in layers on glass, landscapes, and skyscapes animal sculptures, a mess of paint tubes, and tall white walls and ceilings.
Do you have a sketchbook? If so what do you create in there? Is it the rough sketches of ideas or is it more words or do you ever keep sketchbooks?
I have a sketchbook where I keep ideas, and map out painting ideas in quick drawings. I used to lean more heavily on my sketch book in my younger years when I didn't have a studio yet. It was my portable studio to keep inspirational artist, facts, ideas and small projects.
What is your process like?
My process is taking photos to document underwater adventures or explorations. I file all my inspirations and reference images into categories in my computer, so when I'm stuck I can go back to these things. I start by putting down the general shapes of a painting, resining the surface with a shiny gloss and then painting more onto the surface. I then add more epoxy to the surface. Over time I build up the painting to be slightly three-dimensional using this method and make build the clarity of the image. I skip around from one project to another and usually have 5 to 6 paintings going on at once.
Any advice for young artists?
Persevere and don't always go it alone. Make a community of support through which you show up for others and ask for help. Alone time is critical to develop one's intuition and process. There's no such thing as the best artist, just giving it your best.
Fun Questions
If you were stranded on an abandoned island what five things would you take with you?
If I was stranded I would take a solar powered battery that fed my device that played a spotify playlist and a never ending frozen yogurt machine. I would take a hammock, a knife, a fishing rod, and that's 6. Dang it. Lose the fishing rod.
If you could travel anywhere into the stars where would you go? What would you see?
Wow, anywhere into the stars!? I'd just keep going and going into the stars!
If you could meet anyone in history who would it be?
Anyone!? In all of history?? These days I want to meet my benefactor.
Do you love coffee or tea? Or both? Or Neither?
I love bourbon ;) I love both.
If you could have one super power what would it be?
To breathe underwater.